Whenever I think of Easter I think of rabbits and whenever I think of rabbits I think of Peter Rabbit from
The Tales of Peter Rabbit
by
Beatrix Potter
. I love the perfect mix of whimsical art, and child friendly stories and of course animals that where clothes.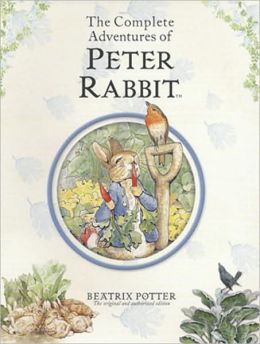 I still feel a bit of anxiety whenever Peter gets his coat stuck on the fence and Farmer McGregor is chasing him down with his big scary farming tools! I remember once when I was younger the
Pacific Science Center
reproduced scenes from Beatrix Potter books at a scale that would show you what it would look like from a scale of a small rabbit. It was amazing running around in these 3D, solid drawings come to life, climbing over fence posts that were 7 feet high, being able to hide in watering cans, made my 9 year old self feel like I wsa actually in the book! I hope everybody has a Happy Easter, and remember to eat lots of chocolate eggs.