(Sung in a slightly of key voice) I love fall, yes I do fall fall fall, it makes me so HAAAPPPPYYYY! In case you were wondering fall is my favorite season, for me it starts the week after Labor Day and goes until I put up Christmas stuff. Fall is awesome reading time too, whether it is finding the perfect tree nook on a crisp sunny day, breathing in the wood smoke while eating a crisp apple and reading about the forest folk, or curled up in a comfy chair with your fuzzy slippers a cup of apple cider and watching the rain fall while reading about Gothic mansions there is always the perfect reading spot during fall. Sometimes the weather does not like to cooperate, here in the DC area it will sometimes stubbornly stay in the humid 80's and 90's until October! No worries though, that is when I cheat. I cover my house in fall leaves, pumpkins, bittersweet and all manner of fallish stuff, then I brew apple cider to get that yummy fall smell and crank up the AC to get that crisp feel, then all that is left is to curl up with a fluffy blanket and lose myself in a good book. Even if the weatherman says it's 98 degrees outside!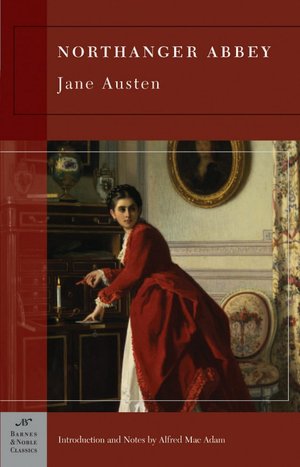 This is the time of year I like to read books that are set in bleaker settings, think old drafty mansions, gloomy hills, fog hidden moors. The stories can even be a bit more depressing, I read An
Unfortunate Series of Events
series in the fall and it was perfect!
Northanger Abbey
is also a great fall read with the added bonus of being a Jane Austin novel! I have noticed that books aimed at the 10-14 age group tend to have the best fall books, lots of mystery, adventure and atmosphere without getting too intense.
Ok I am off to go curl up with an awesome fall book I just discovered, but more on that later.
What books do like to read during the fall season? What do you like most about fall? Is fall your favorite or are you one of those weirdos who mourn summer? Do you find yourself taking more "sick" days to stay at home and finish that good book?